Working in the world of natural wood veneers for almost three decades, it's customary to come across various levels of confusion as to what it is you actually do.
Beyond the, "Veneers – what, for teeth?" questions, a great many of the common posers include things like, "So you stick slices of wood to furniture?", and "Veneers – aren't they the poor relation to solid wood?".
The truth is, the world of natural wood veneers is a diverse and interesting one. If you're a regular visitor to our blog then you have no doubt heard us waxing lyrical about the wondrous effects that can be achieved courtesy of decorative wood veneers. Figured veneers for example are something very special and often used for high end applications such as luxury interiors. And then you have crotch and burr veneers which deliver spectacular results: their uniqueness makes them incredibly popular amongst woodworkers and craftspeople who serve the upmarket sectors.
Veneer Woodworking – a Craft in Itself
Veneer woodworking is a craft in itself. We get a lot of people ask us what it is we do at Read Veneers, assuming that we slice logs and glue them to doors or cabinets or whatever and that's the end of it. But there is so much more to it than that.
A large part of what we do is provide advice to interiors experts, architects, joiners and cabinetmakers who are looking to achieve a particular look, or who are seeking something particularly exceptional to set off a project perfectly. They know they want to make use of natural timbers, but they are not so sure how to use them to best effect, or what species of timbers will work best for their commission.
Choosing the Right Timbers
There are hundreds of timber species that can be used as veneers, and it's part of our job to make recommendations. These are based on what the item to be veneered will be used for and where it will be used. Some of the decorative styles for example can be fairly thin which means they are better for applications where there won't be too much handling, whereas the thicker constructional veneers are more suitable for higher traffic areas.
Getting the Cut Right
We supply a vast range of timber species which can all be cut in certain ways to produce different effects. This is another key part of the service we offer: recommending veneer cuts based on what the customer wants to achieve. Take oak for example. To start with, there are various different types of oak including brown oak, European oak, American red oak and American white oak just to name a few. Now within the oak species, there are further options. American red oak for example can be straight cut, crown cut or figured. All these cuts produce different effects as you can see from the pictures below.
Matching for Exceptional Effect
So once you have your species, and your cut, the next step is to apply it to your commission. Now this could be a single table, an entire kitchen or a set of fire doors for commercial premises for example. This is another area in which great skill is required, because for the final look to be absolutely perfect, so the veneer sheets have to be matched. We have discussed in a previous post the art of veneer matching, and it is one of our key crafts here at Read Veneers. With good matching comes a seamless finish. You can see in the picture below how perfect veneer matching resulted in a striking look.
Application and Finishing
The next step is to apply the veneers to the commissioned pieces. Again this is one of our core tasks, and again it takes a lot of knowhow to get it right, especially when a pristine finish is imperative. In our factory we have a range of machinery which allows us to carry out everything from producing timber products such as doors and furniture from CAD/CAM drawings through to jointing, lipping, edge banding and sanding – in other words we offer the full woodworking service from start to finish – allowing your veneered commissions to be taken care of in their entirety, if that is what you want. Of course we are able to work with you flexibly, so if you prefer we can simply supply veneered boards ready for your own woodcrafters to work with.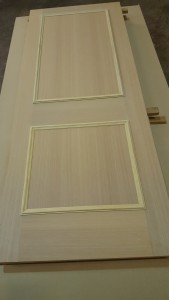 If you'd like to talk to us about a project or commission, please feel free to get in touch. We offer a complete service in veneer woodworking and are happy to work with you flexibly depending on your particular requirements.