Veneered Bathrooms
When it comes to adding a touch of elegance to a home's interior, veneered bathrooms can make quite an impact. Whether used as panelling for bathrooms, or to create eye-catching pieces of bathroom furniture, natural wood veneers are considered the high-end choice for homes of distinction.
---
How can wood veneers be used in a bathroom?
The beauty of wood veneers lies in their versatility. Not only can they be used as wall and bath panelling to create a period look, they can also be applied to bathroom furniture, such as vanity units, pedestal cabinets, cistern surrounds and storage, as well as doors. Whether you opt for a classical or contemporary look is entirely up to you.
What's more, wood veneers can also be crafted into wood panelling that is used to hide unsightly pipework in a bathroom.
---
Are wood veneers suitable for bathrooms?
Many people ask the question, can wood veneers be used safely in a bathroom? It is a good question, as the bathroom is obviously one of the most humid rooms in the home.
However, providing the veneers are applied to a waterproof substrate using a strong, purpose-designed adhesive, there should not be any issue at all in terms of the effects of moisture and humidity when used in a family, ensuite or Jack and Jill bathroom. However, for wet rooms, the use of wood veneers is not generally recommended.
---
Wood veneering services for bathroom designers
Whether you're creating a bespoke veneered bathroom or a one-off piece of customised bathroom furniture, or you are managing a large fit-out project, perhaps for a hotel chain, serviced apartments or halls of residence where consistency is essential, here at Read Veneers we have the expertise and capacity to provide just what you need.
We regularly work closely with bathroom fitters and interior designers providing a range of services, including:
Matching for perfect flow from one cabinet or panel to the next
Edge banding and lipping for a seamless finish that's akin to solid wood
Fitting of hardware
Working to CAD/CAM files or drawings
Cabinet doors, panels and shelving
Matching wall panelling and doors
Advice on species selection and matching methods
We are able to produce fully prepared doors, panels and veneered boards ready for fitting, and can service both commercial and residential properties.
---
Popular veneer species for bathrooms
Oak, maple and walnut veneers in their various forms tend to be in highest demand for veneered bathrooms.
Clustered oak for example creates a very eye-catching effect, a true focal point for veneered bathrooms. American quarter cut oak, with its beautiful fine grain, has its own endearing charm and works well for the more modern-designed bathroom.
Satin walnut and black American walnut also work beautifully for veneered bathrooms, producing a sophisticated finish.
There is also the option to blend natural wood veneers with solid wood. This can work particularly well with the likes of oak and maple, achieving striking results that are much admired.
You are welcome to ask our experts for tailored advice on selecting and blending veneer species to create the precise effects that you or your client may be looking to achieve.
---
Flawless matching for a perfectly seamless veneered bathroom finish
As with all our products, we are on hand to provide expert advice on achieving a flawless match that blends seamlessly with any existing or planned design scheme, in any style of your choice, from period and traditional to modern contemporary.
We can provide whatever you need for your veneered bathroom project, fully factory machined and ready to fit, or prepared for your own finishing. Our service is fully flexible.
Please give us a call on 01277 811 771 or get in touch for more information on our veneering services for bathroom designers, and for helpful, expert advice.
Related News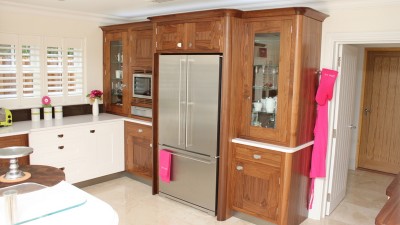 Working in a veneering factory we are at the sharp end – the dusty end if you like – of the interior design business. Whilst there's nothing glossy about the work we do, it's actually incredibly important in achieving those amazing, eye-catching finishes that adorn stunning public buildings, popular entertainment venues, hotels and fine homes.
Read More
Whether they're used as wood panelling or as part of stylish furniture, wood veneers are versatile and bring a distinctive look to any home or venue. At Read Veneers, we're often asked if veneered kitchens and veneered bathrooms are viable due to the nature of the rooms being prone to humidity. Let's explore the ways in which wood veneers can be used in these two rooms.
Read More