Whether you're working on upgrading a private residential property, designing an interior for a new build, or creating a design masterpiece for a hotel chain or apartment complex, when it comes to the bedroom, you're going to want something outstanding to really set it apart. And what better way to bring a bedroom to life than with decorative wood veneers?
Decorative wood veneers not only create the ultimate focal point for any bedroom, they can also hide a multitude of sins. From cabling and pipework to uneven surfaces, you can cover up all sorts with veneered wood panelling.
But wood veneers have so much more potential. They can literally spice up a bedroom, creating a stand out feature to inject a touch of drama against the typical calming backdrop that this room is all too often known for.
Here are some top ideas for using decorative wood veneers in a bedroom.
Feature wall
A feature wall never fails to jazz up a bedroom, but in place of that typical floral wallpaper or bold block paint, why not make use of wood veneer panelling?
Choosing a veneer that matches or complements the furniture will streamline the theme, but of course you don't necessarily have to be consistent. In fact, for a real splash of excitement, you could go all out with something truly exotic, such as olive ash burr, elm cluster, mahogany curl or quilted maple.
Build in an ambient-lit inset shelving feature dotted with a selection of objet d'art, on a wood or nature theme if you want to maintain design integrity, and there you have your big statement, stand-out feature wall.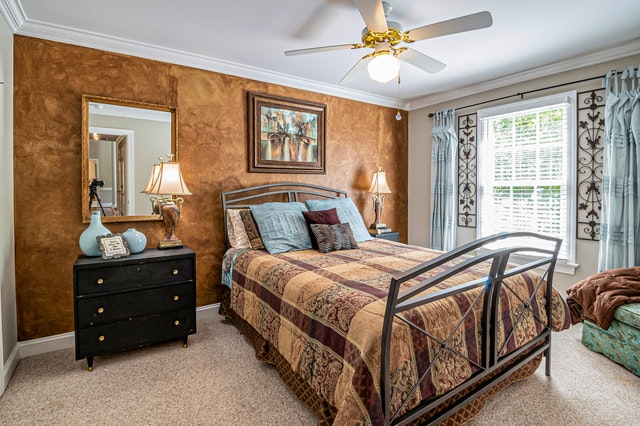 Headboard
The bed is often the focal point of a bedroom. So why not really go to town and define the space with a knockout headboard? A decorative wood veneer panel is just the ticket when it comes to putting a bed in the spotlight.
Timber works so well around a bed. Naturally warm, it is the perfect way to instil calm where it is needed. And if you want something truly spectacular, instead of taking the veneer panel on up to the ceiling, why not continue it across the ceiling? This will mimic the feel of a seriously tall four-poster, and give the impression of a taller ceiling and larger space.
Cabinets and wardrobes
As we've already mentioned, the use of timber in a bedroom has the ability to create a sense of tranquillity. Warm toned and bringing a sense of calming nature into the room, a decorative wood veneer finish used on wardrobes, cabinets, drawer chests and doors can help induce a good night's sleep.
Wood veneers make an astute choice for bedroom furniture. They are robust and certainly stand the test of time, not to mention looking stunning, especially when the wood grain is expertly matched.
Decorative wood veneers for your next bedroom design project
At Read Veneers we have been working alongside interior designers and fit out experts for many years, assisting in creating notable finishes courtesy of the very best decorative wood veneers.
We have the capacity to provide all you need as you need it, both machined and ready to fit, or prepared for your own in-house finishing. We can also provide expert advice on selecting the ideal wood veneer species and substrates for your individual assignment.
To discuss your project, please call us on 01277 811 771 or get in touch to learn more about our decorative wood veneer expertise.