Bamboo veneers are a little different from other types of veneer in that they are made from laminated blocks of bamboo that are then sliced and sanded.
To add stability and strength and to prevent cracks during handling, the veneers are backed with a fine fleece material.
Bamboo as a species originated from the sub-tropical tempered part of China together with South Korea and Japan. It is a rapid-growing species from the grass family, often reaching up to 20 metres in height in just two months.
The timber is very hard and tight textured. It is used widely in construction, flooring and decorative panelling. Bamboo works well with woodworking tools, and as a veneer it proves flexible and easy to glue.
Bamboo veneers are available from Read Veneers in natural or caramel shades. Choose from side pressed which is vertically cut to produce narrow strips, or plain pressed which is horizontally cut to produce wide strips.
Our veneers A-Z presents four different bamboo veneer options.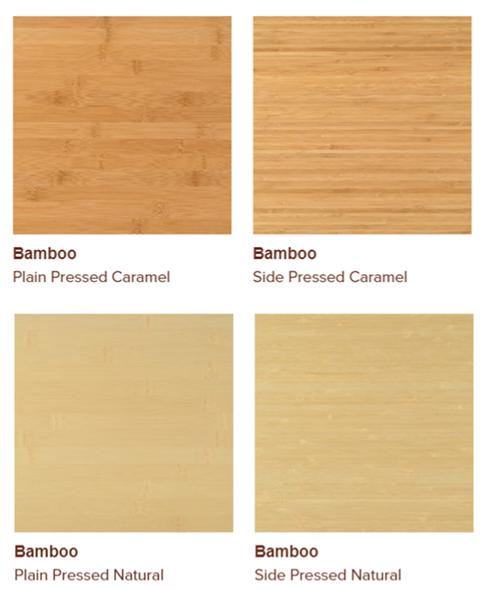 Plain Pressed Caramel Bamboo
Plain pressed caramel bamboo displays thick grained horizontal strips punctuated by prominent natural burrs and knots giving a unique and more random effect than the other bamboo veneer types.
Side Pressed Caramel Bamboo
Side pressed caramel bamboo is a characterful looking veneer with elegant thin horizontal lines and subtle burrs and knots.
Plain Pressed Natural Bamboo
Plan pressed natural bamboo displays very subtle thick horizontal lines. It is more grey in colour compared to its warmer caramel counterpart.
Side Pressed Natural Bamboo
Side pressed natural bamboo has a little more character to it than plan pressed natural bamboo, with its thinner lines and very faint burrs and knots. Again the colour is more grey than the caramel option.
Bamboo Wood Veneer Specialists
If you would like to learn more about wood and joinery crafting using bamboo veneers, or if you have any questions about this particular veneer, please do not hesitate to get in touch with us for tailored advice.