Anegre is an African hardwood originating from Africa's tropical East and West Coasts. Anegre veneers are widely used in furniture and cabinet making and admired for its pale creamy-yellow hue that displays subtly attractive hints of pink.
Anegre veneers are usually quarter cut, resulting in a fine, elegant finish, although it can also be crown cut which produces an equally attractive result. Figured quarter or crown cut anegre is much sought after and indeed rare, used in high quality panelling. Varying degrees of figure range from prominent fiddleback down to light shimmer.
The colour of the heartwood tends to darken as the tree ages and has a faint odour that is similar to that of cedar wood. It is considered easy to work with from a woodworking point of view.
Our veneers A-Z presents four different options for anegre veneers.
Crown Anegre and Crown Figured Anegre Veneers
Crown anegre is more of a light biscuit colour with a beautiful, natural grain. The figured version features a very subtle fiddleback effect and takes on a more rosy hue.
Quartered Anegre and Quartered Figured Anegre Veneers
The quarter cut and quarter cut figured veneer have become a popular choice for furniture, cabinetry, and decorative architectural applications. Quarter cut is slightly darker than crown cut and carries an almost straight, fine grain, whilst the figured version is of the same hue, but with a grain that is more random, making it incredibly eye-catching.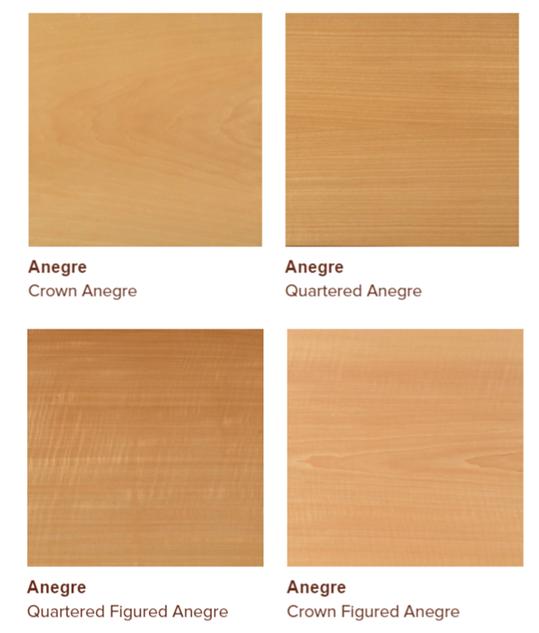 Anegre Wood Veneer Specialists
If you would like to discover more about wood and joinery crafting using anegre veneers, or if you have any questions about this particular veneer, please feel free to get in touch with us for personalised advice.